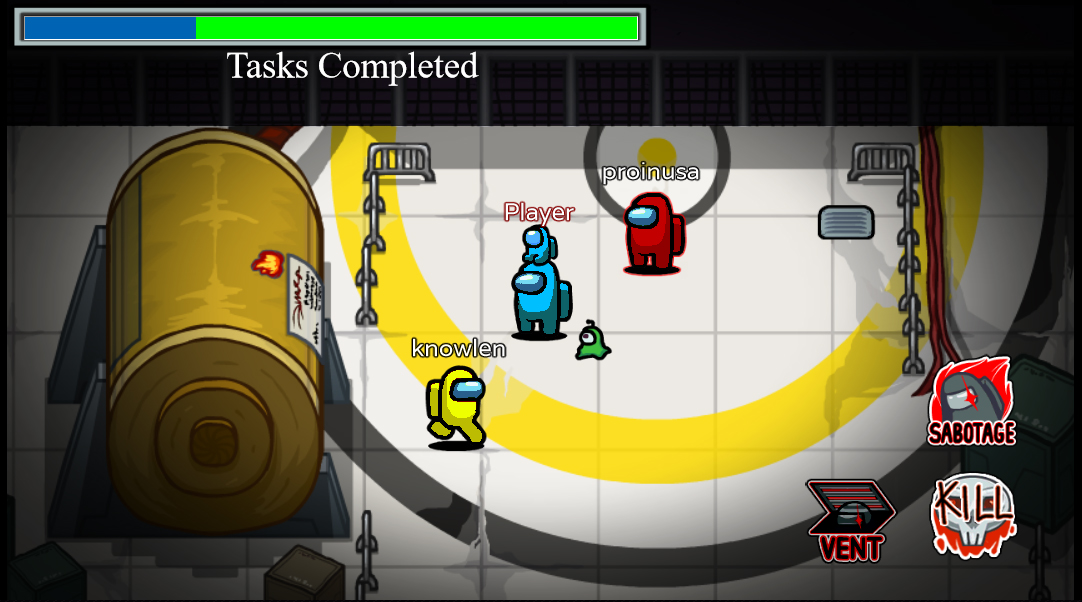 Below are some of the best Among Us games alike to play online free in 2022! But before we talk about the games, let's see why the game is called ''Among Us''. The Among Us is a 2018 online multiplayer game developed by InnerSloth and released on the PlayStation 4. As a result of TikTok and YouTube gamers posting videos of themselves playing along with the game, the game gained popularity in 2020. Representatives Alexandria Ocasio-Cortez and Ilhan Omar of the United States of America recently contributed to the game's growing popularity by broadcasting a live stream of themselves playing the game on Twitch's online streaming service.
1. Among Us Single Player Fan Game ( Available online and on any mobile devices free).
In this so-called Among Us Single Player Fan Game, you can play a clone of a well-known game, such as the "Among Us," released online as the first clone. In contrast to the original game, a single player can play this version of the game against bots or artificial intelligence (AI). You can also only play as an imposter, which means you can only kill the other players and sabotage the spaceship during your time there. This Among Us Single Player Fan game is unique in that you can completely customize your game settings your character's appearance with cool colours, skins, pets, and various hats for no additional cost. In addition, it is a delightful game to play, as it allows you to practice before playing the original Among Us game. Therefore, if you successfully modify all game settings, such as killing distance, killing cooldown, speed, and task amount, the game will begin, and you will be pitted against the astronauts. And your mission is to sabotage the ship, which can be accomplished in two ways. To find out where to sabotage the ship, press the sabotage button on the bottom right side of the game interface.
After that, a red minimap will appear, indicating the location of the ship's reactor as well as the amount of energy available. While performing your duties and sabotaging the spacecraft, make sure other astronauts do not notice you, or you will be reported and thrown off the spacecraft. Then, just like in the original Among Us game, kill some astronauts and hide inside the vents, and then vote to reduce the number of players remaining in the game. However, in this Among Us Single Player Fan game, you will be required to complete specific tasks before the time limit expires, or else you will be thrown off the spaceship entirely. The game has a short walkthrough on YouTube, which you can view here if you want to see it in action, or you can play it for free on Brightestgames, a website dedicated to video games. Allow us to introduce you to this entertaining Among US game that you can play online! You can also participate in the game Among Us.
2. Among Us Single Player ( the first version of the game is playable online and on any mobile device).
Gameplay in the single-player mode is the first version of the game Among Us to be made available on the internet, and it is entirely free to play. Although a different developer developed the game, it offers fewer in-game features than the Among Us Single Player Fan game mentioned above. In the game, you can only customize the colour of your astronaut, as well as the kill distance, kill cooldown, and game speed. You don't have any pets, and you don't have any other skins, heats, or other cool customizations. You will also only be able to kill astronauts and sabotage the spaceship because you will be playing the role of a saboteur. However, when you kill an astronaut in this Among Us Single Player, you cannot call a meeting or report a dead body, which is not implemented in the game. All you can do is kill, sabotage, hide, and run away from the area where you have sabotaged-killed to avoid being discovered.
In addition, there are tasks to complete in the game, and you can only kill an astronaut once and then wait for five seconds before being able to kill another time. The fact that there are no shadows in this Among Us clone means that you can see the players approaching you from the other room, which adds to the fun. Thus, it is an excellent game in which to practice and improve your killing and sabotage abilities, and it serves to prepare you for real Among Us game! The Among Us Single Player game can be played online on browsers and mobile devices such as phones, tablets, and iPhones. A stable version of the game is available for play on these devices. So give it a shot, guys; this game is quite entertaining to play online, and it is entirely free! Single-player fan game that can be played on any mobile device.
3. Among Us Kogama game, which is played among us (the free online game version)
You can play the "Among Us Kogama" game, which the developers of the KoGaMa game created, and you can find more information about their game on the internet. In addition, you will have the option to select from various characters with various colours and search for stars in the game. We like that this game was inspired by the popular video game The Last of Us and that it is multiplayer, which means you can play with hundreds of players from all over the world. Tasks, Cube-Gun, and Ninja Run, are the three game modes available, all based on the game's theme. Within the game, you will be required to overcome all but the most deadly obstacles, run, jump, collect coins and golds, diamonds, and other exciting game features, among other things. Never touch or walk over the green squares, as doing so will result in your death immediately!
Those who enjoy Minecraft will find this style of game entertaining. You will be able to construct various structures out of cubes in real-time while competing against hundreds of other players in the room. Using Discord, you can communicate with other players and collaborate on various projects. Using the Kogama website, you can see inside the game different class units to choose from, how to boost your score and abilities (by watching advertisements), a shop with other skins and heats and particles and back accessories and other cool features and some of the cool things you can unlock as you level up if you have an account already created. "Among Us Kogama" is only available on browsers and can be played in full-screen mode on any resolution, so make sure you try it out and see how good you are at it.
4. Who Is Imposter is a free game that can be played online and any device.
If we look at our 11 among us game that is very similar to "Who Is Imposter," we will find that it has similar gameplay but only allows you to play as an impostor once in around. You can only sabotage the energy and reactor once in your life. Then you'll have to pretend to be an astronaut or a member of the crew and try to figure out who the other impostor is! It sounds amusing. The game's developers have implemented a 2D and 3D-ish graphics style, allowing players to view the levels better because the game camera is raised above the ground.
In a sense, this makes the game more manageable because you can see the other players moving around in the following rooms, but you can use this to your advantage as you progress. You can go about your business more securely so that you are never discovered when you choose to kill a crew member. Another recently added feature is music, which plays when you sabotage the reactors warning the other players, so you have to quickly sabotage and run for the woods to avoid being caught.
In all clones of the among us, you have the option to modify the game settings, which includes the ability to change the colour of your player, adjust the killing distance, the speed of your player, and the range view of the other players and your own. The game is enjoyable if you want to pass the time while online or travelling! The game is also available on various devices, including smartphones, tablets, iPhones, and other mobile devices. So go ahead and give this Who Is Imposter a shot; who knows, you might end up liking it after all! Wishing you the best of luck in the game!
5. Among Us: The Imposter game (available online and on any mobile device free)
In this entertaining "Among Us: The Imposter" game, you will participate in a fun running and parkour combination of the game, which will feature our adorable astronaut characters and the Among Us theme. In the game, you'll have to race against the clock to save other astronauts from captivity while avoiding all of the dangers that await you. The evil impostors have seized control of the ship and imprisoned the entire crew.
You will interact with the yellow astronaut, who will automatically rush forward, and you will be tasked with assisting the hero in his mission to rescue his comrades from captivity. You will encounter numerous obstacles along the way, which you will easily overcome with your agility and lightning reaction time. There are chargers, enemy astral ships, and abysses around every corner. You will automatically save the astronauts in cages, and they will join your space race due to your actions in this regard. Keep a close eye on the activities of all astronauts because it will be challenging to save all of the participants in the race at times, and some may perish as a result of falling into pits and holes. When our yellow astronaut dies, the game will come to an end. Along the way, you can gather gold coins and keys. When you use gold, you can purchase new hats or an advantageous bonus, and the keys will assist you in opening large cells that contain prisoners. Put forth your best effort in this "Among Us: The Imposter" game, which can be played on browsers and any mobile device, and have fun testing your limits and honing your reaction skills. We are hoping you the best of luck! In addition to Among Us, other developers will create similarly or related Among Us games in response to the game's success. As a result, we will include all of the fun Among Us games online on Brightestgames.com so that players like you and us can enjoy the games for free and on any device. Keep an eye out for updates, and make sure to visit our website! Some tiles that are worth mentioning:
Among Us.io, Among Us Airship, Good Guys Vs Among Us, Among Us Online V3, and plenty more, just visit our category and have fun along with our astronauts and Imposters and their life and eath game! Also make sure to check the among us character, among us gif, among us memes and in some games, there are among us wallpapers.